The 2023 Subaru Love Promise Community Commitment Award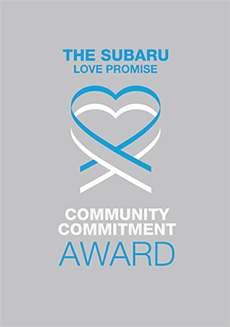 We've been nationally recognized for our dedication to our community and the Subaru Love Promise.
We're honored to receive the 2023 Subaru Love Promise Community Commitment Award. This award nationally recognizes Subaru retailers who are making the world a better place while demonstrating an outstanding commitment to supporting passions and causes in local communities. These efforts are focused in important areas such as the environment, community, health, education, and pets.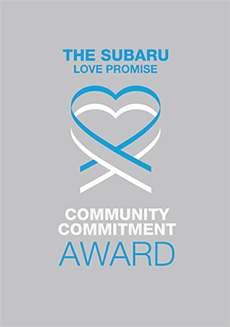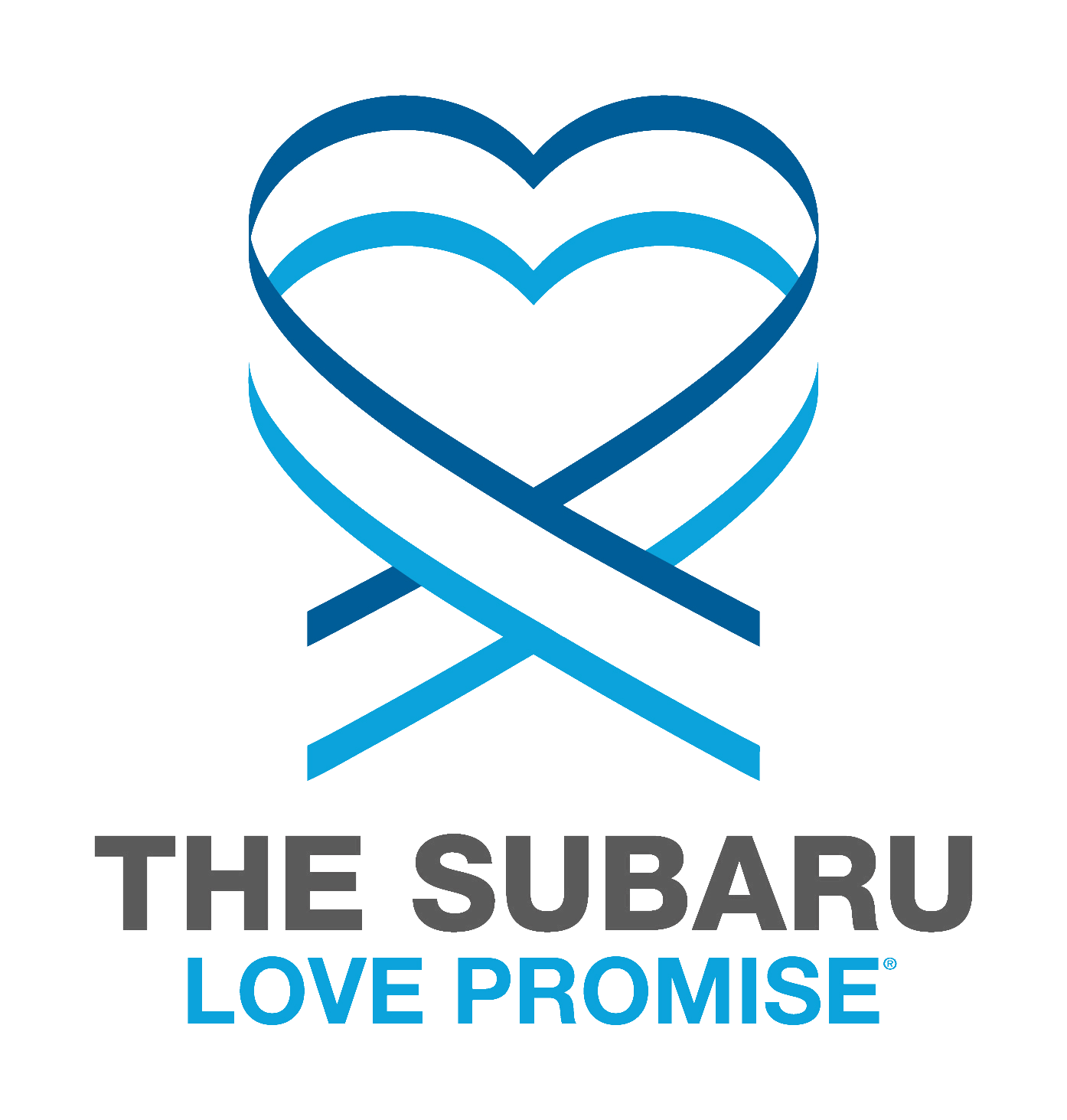 What is the Subaru Love Promise?
Subaru and our retailers believe in making the world a better place and the Subaru Love Promise is our vision of respecting all people. This is our commitment to show love and respect to our customers and to work to make a positive impact in the world.
How is Subaru of Fort Myers dedicated locally to the Love Promise?
WE ARE MATCHING FUNDS 100%
CAPE CORAL ANIMAL SHELTER
COLONIAL ELEMENTARY SCHOOL
Lee County Homeless Coalition Inc.
Love Promise Stories from Subaru of Fort Myers
Subaru and Subaru of Fort Myers believe in making a positive impact on the communities in which we live and work. We uphold that belief through our Love Promise Community Commitment. Every month, we select inspiring stories from customers and partners from around our area who strive to support our collective commitment and feature them here
Subaru of Fort Myers hosts "Meet and Greet" for puppies available at CCAS--All were adopted! - Liz M
Not only does Subaru of Fort Myers support us through valuable sponsorship of our events, but we have held "Meet and Greet" events at their dealership to highlight our adoptable animals and bring awareness to the community about adoption and the life saving work our shelter does. We believe the customers loved having our pups there and we know the staff and volunteers enjoyed meeting all the folks who came out to meet them. We are happy to report that ALL the puppies who attended the "Meet and Greet" found their forever home! Thank you to Tony and Kami and all the great folks at Subaru of Fort Myers for their continued support of our mission. We are so grateful!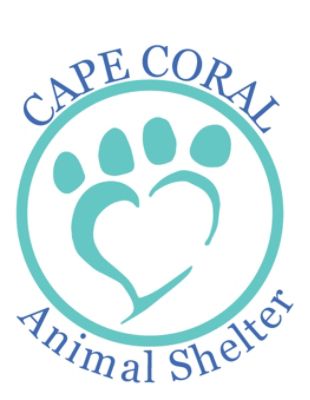 ---
Dogs like Rolfe are saved thanks to the support of Subaru of Fort Myers - Liz M
Rolfe found his way to the Cape Coral Animal Shelter from another part of the state of Florida just before Christmas 2022. He had been rescued from his previous owner who was abusing this poor young pup to the point where his hip was broken. Charges were filed, but for the safety and well-being of Rolfe, the animal control shelter who saved him felt it was best to get him far away from his abuser and give him a safe place to heal, both physically and mentally. Our veterinary team discovered immediately that Rolfe would need major surgery to repair the damage to his hip to lead a normal life. Though the surgery and rehabilitation that followed was expensive, we knew we had to help him. Rolfe had surgery in January and began the long road to recovery. Fortunately, thanks to the generosity of our donors, the Cape Coral Animal Shelter has a cold laser that is perfect for accelerating the healing of injuries like this. With a combination of laser therapy, physical therapy, and a lot of love from our staff and volunteers, Rolfe healed. The week of his first birthday, it was time for him to find his forever home and along came an amazing woman with a German Shorthaired Pointer, Jax, who looks just like Rolfe—a little older—but a brother that could show Rolfe the ropes. From the time he went home, it was like Rolfe, now renamed Oliver, was meant to be a part of this wonderful family. Many shelters do not have the resources or support to take on such a challenging medical case that requires so much time, medical expertise, and expense. The Cape Coral Animal Shelter could not do this life-saving work without the support of our donors such as Subaru of Fort Myers. They not only promote adoptions of our animals but have sponsored our largest signature event, Walk, Wiggle, Wag and Run for the past two years. Having the support of compassionate organizations such as Subaru and Subaru of Fort Myers helps us share the love with all the animals whose lives we touch. We are truly grateful for their ongoing support. Oliver and Jax are very happy, and for that we thank you!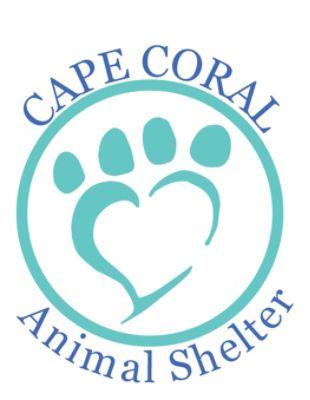 ---
Burrowing Owl festival- Subaru Loves to Help® - Bill K
After one of our volunteers purchased a vehicle from Brett Slaughter at Subaru Of Fort Myers, some of the employees volunteered to help with our Burrowing Owl Festival this year. The five employees who volunteered to assist with the parking did a stellar job. They were very personable, accommodating and rapidly picked up on our procedure and ran with it. So much so that I had to insist that they take a break to hydrate and go for lunch if all of your employees are like those who volunteered, I would not hesitate to check out your dealership. Thank you again, they made our job so much easier, especially since we had a record crowd. Bill Keener
---
CAPE CORAL FRIENDS OF WILDLIFE THANKS YOU, FORT MYERS SUBARU! - Michiale S
The Cape Coral Friends of Wildlife is a volunteer organization whose purpose is to preserve and enhance the habitats of protected wildlife species and to educate the community about Cape Coral's wildlife resources. For the past 21 years the Burrowing Owl Festival and Wildlife Environmental Exposition (held on the last Saturday in February) has been our biggest fundraiser, with exhibits, speakers and fun for the whole family. Hurricane Ian severely impacted the wildlife in Southwest Florida as many were disoriented and displaced. Standing at about 11 inches tall and weighing an average of 6oz. the burrowing owl is Cape Coral's city bird (and the only owl in the world that lives underground). The festival is to heighten awareness and provide education on both our environment and our wildlife, including the beloved burrowing owl. We invited Subaru of Fort Myers to participate and not only did five staff members volunteer to assist with parking, we also had Lisa Kline, Orlando Zone Director, drive down to volunteer as our mascot (which was quite the undertaking...being in costume for hours in 90 degree heat!). The mascot was a huge hit for children and adults alike and we simply would NOT have been as successful in raising much-needed funding without Subaru's support! There just are not enough words to express our gratitude!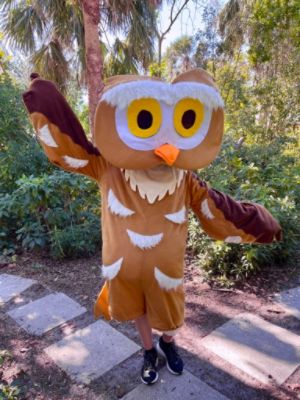 ---
Adoption event - Aviva I
Subaru of Ft Myers let our local rescue, Doghouse Rescue Academy, hold a Valentine's themed adoption event and all the employees were so nice and helpful. Kami, the event coordinator, helped us set everything up and was a pleasure to work with. They are also donating $300 for every dog we got adopted due to that event! We look forward to continuing to build a relationship and have more events in the future!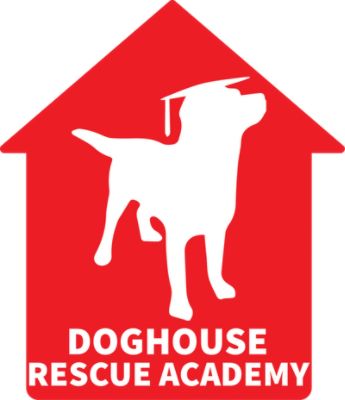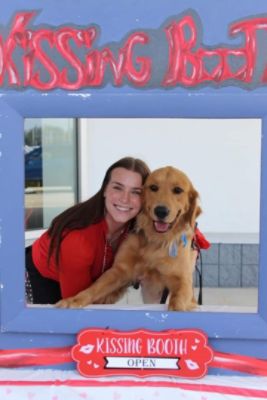 ---
Golden Retriever Rescue SWFL - Cliff S
Subaru of Fort Myers is AMAZING!!! On behalf of all of the volunteers at the Golden Retriever Rescue of Southwest Florida and the more than 1100 Goldens that we have rescued and placed in loving "Forever Homes" in our community over the years, we can't thank you all enough for your tremendous generosity and support. I am sure you all have seen the really fun Subaru commercials with the 4 Goldens driving around in their Subaru. That is not just a commercial, it personifies how much the people at Subaru of Fort Myers care about our community and the pets in need of help in our community. As soon as we entered the Subaru of Fort Myers showroom, we knew we were in a special place. We were greeted by a Welcome Golden and everyone we met showed us pictures of their personal, loving dogs, many of whom were Goldens. Subaru of Fort Myers was a Golden VIP sponsor for our annual, signature fundraising event, GoldenFest XII. Not only were they a sponsor, but they also hung out with us all day and brought several Subarus for dogs and dog owners to sit in and they gave away cool Subaru themed stuff. And we all had a blast! Over 3000 people and almost 1000 dogs attended GoldenFest XII. And everyone loved the demonstrations and all of the love and kisses that they got from the sea of Goldens that were in attendance. 100% of the funds from GoldenFest are used to provide veterinary services and medical procedures and surgeries to the dogs that are rescued. Attached are pictures of Caci, Lenny and Janie. These three Goldens were rescued from a rural backyard puppy mill in our community as a result of a full-scale law enforcement raid. When we picked them up at the puppy mill, they were covered in fleas, malnourished, lethargic and had visible hookworms. After months of treatment while staying in our foster homes, we are thrilled to report that all three dogs have been adopted into loving forever homes and are doing great! As you can see, Subaru of Fort Myers is truly a role model for all businesses in our community. And we can't thank them enough for helping to make our community a better place to live!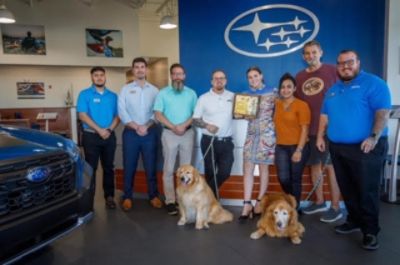 ---
Cape Coral Animal Shelter saves Princess Leia! - Liz M
Subaru's support of pet rescue, transport and adoption, in general, and the Cape Coral Animal Shelter, in particular, literally saves lives, as the 100-pound Mastiff/Bloodhound mix who's taken over our bed can attest. Our Princess Leia was overbred and endangered by an unscrupulous breeder to the point that her last litter left her physically injured and in need of major medical attention. Rather than pay for that, the breeder cut her loose to the local animal control officer and she (and her massive puppies, thankfully, at the officer's insistence) were taken to the Cape Coral Animal Shelter, where she was given her "Star Wars" inspired name and began to get the care she needed. Her injuries were substantial, though, and a few days after her initial treatment, her sutures tore open, leaving her perilously close to death. The team at the shelter worked furiously to keep Leia alive until she could get to a surgery center where her life ultimately was saved. This time, the recovery was a lot smoother and Leia grew stronger by the day until she was ready for a forever family. Her puppies already were settling in with their new families, but Leia's would be no easy adoption. She had grown up on "the streets" and still was somewhat feral, although the shelter's in-house trainer already was working to change that. Enter our family. We've always had a house full or rescues and prefer to take special-needs pets who stand less of a chance at adoption, so Leia seemed right up our alley. A meet-and-greet with our other large dog was uneventful, so we took the plunge with Leia. We can laugh about it now, but it was not a smooth transition. Leia seemed off-kilter in our house, her days and nights mixed up, regressing in her potty training and now fighting with our other big dog, who she had totally ignored at the meet and greet. We're used to dealing with difficult pets but Leia tested our limits. Everything changed, though, when the shelter offered us the support of their trainer in our home. Within six weeks, Leia was a routine-driven princess again, displaying the personality with a capital P that had endeared her to the shelter staff. Six months later and she's blended in well with our brood -- 2 other dogs and 3 cats -- and is quite the tourist attraction on her daily walks through the local park. She stills has the occasional run-in with our German Shepherd, but at the end of the day it's nothing we can't handle. And speaking of the end of the day, Leia ends hers stretched out across our king bed, a far cry from her upbringing, but fitting for a princess. -- Amy Jo and Ray Eckenrode, Cape Coral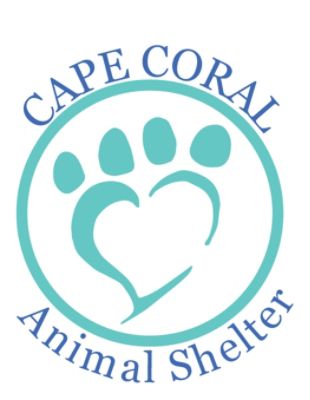 ---
Subaru loves pets - Tony D
Thanks to everyone who helped us raise $3,100 for Cape Coral Animal Shelter & Veterinary Clinic! Not only did we do good but we had fun, too as you can see in these pics of our amazing team cuddling some adorable adoptables. 🚗💖🐶🐱 Your donations help animals in need find the right homes and receive all the love. Cape Coral Animal Shelter, a no-kill animals shelter, is "dedicated to engaging a special bond between people and animals by means of adoption services, medical care, education and training for the prevention of cruelty and abandonment. The Cape Coral Animal Shelter will provide a safe place where animals will receive the care they need and remain until they are placed in a qualified, forever home." Besides raising some cash for these cuddly cuties to find new fur-ever homes, we're also partnering to present the Walk, Wiggle, Wag, & Run event in April. Check out our pinned event post to learn more and register and visit Cape Coral Animal Shelter to find your new best friend!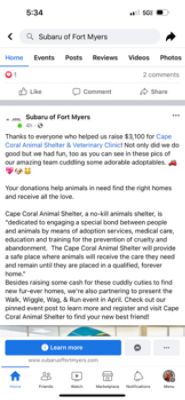 ---
Santa Drives a Subaru! - Jen E
On 12/22/22 Subaru of Fort Myers was lucky enough to partner with Gladiolus Food Pantry for their Holiday toy giveaway. Gladiolus Food Pantry has been operating since March of 2013 and helped feed 22,401 community members last year alone! Their mission is to reduce hunger by providing healthy, nutritious food while treating everyone with dignity and respect. Gladiolus Food Pantry holds holiday events regularly, but this year was far from regular. Unfortunately, Gladiolus' building was severely damaged by Hurricane Ian. Where there used to be shelves of food, are now only concrete floors, walls, and a damaged roof. Even though the Food Pantry needs major repairs, that would not stop founder Miriam Ortiz and her dedicated volunteers from helping the community this holiday season. The event must go on and it did right in the parking lot. The event was able to provide age-appropriate toys and clothing to hundreds of children for the holidays. After the devastation of Hurricane Ian, the need is high for many families who lost so much. This event is always special but held a bit more meaning this year for a lot of people. While families work to rebuild homes, replace vehicles, and get back to life before the storm, the holidays can be an additional pressure. As our community builds back, it is events like this that bring us together. Subaru of Fort Myers was proud to provide food for everyone who attended the event. Subaru of Fort Myers employees Jen Evans and Jeny Leyba grilled and individually wrapped over 500 hotdogs to ensure everyone who attended had a hot meal. The kids all got the opportunity to meet Santa and the Grinch was there causing trouble. Jen and Jeny learned that when Santa isn't driving his slay, he drives a 2018 Outback! In an effort to get on the nice list, Jen and Jeny told Santa about all the great new features Subaru has added to the Outback. They think he deserves an upgrade this holiday season!!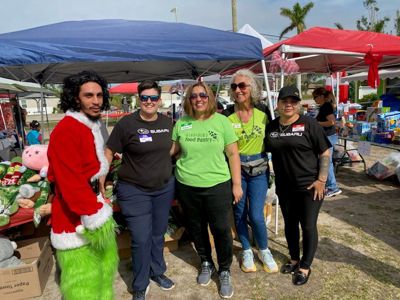 ---
Kindness and Great Service - Jaclyn M
We first met Jaclyn Markham back in October of 2021, when we ordered a new Impreza for her. Jaclyn was a previous Subaru customer and was at the end of her Impreza lease, ready for a new one. Her new Impreza arrived on January 6th and she finalized her lease on January 12th. Everything was great until four short days later a natural disaster hit. Her brand new Impreza was affected when several tornadoes formed in SW Florida during a winter storm. Jaclyn brought her Impreza into our service department to get repairs completed and this is when she met Joannie. Joannie was able to get everything fixed up and Jaclyn went on her way. Later this year, SW Florida was struck again by a major natural disaster. Unfortunately, Jaclyn was once again negatively affected. This time, Jaclyn lost everything in her home and it was deemed uninhabitable. Her Impreza, that was less than a year old, was involved but was mostly undamaged. About a week after the storm, Jaclyn's TPMS light came on. With so much on her plate already, she could not handle more. She remembered Joannie who had helped her after the tornado. She called Joannie and was told to come right in, that we would make time for her right away. When Jaclyn came in, she was met by Ariel, her service advisor. In Jaclyn's words, "Ariel was the service rep at the counter who listened, assured me they would check it out and handled my tears of relief and gratitude that welled up and overflowed." Ariel continued to check in on Jaclyn even after the service was completed. This was everyday to us, but it was viewed as extraordinary by Jaclyn who had gone through so much. We understood her stress as a lot of us were affected in different ways by the storm. A few weeks later, Jaclyn called again. She had gotten a flat tire from the debris left behind by the storm. When she called in, we knew we needed to go above and beyond as it seemed mother nature wouldn't give Jaclyn a break. After waiting 5 hours for AAA, Jaclyn was still stranded. We decided to send help directly to her instead of towing her vehicle in and making her wait even longer. So we sent one of our technicians out to assist her. Connor changed her tire and put the vehicle spare on for her. Connor brought the tire back here to repair it. Once the repair was complete, Connor brought the tire back to Jaclyn and put it back on the vehicle. This allowed Jaclyn to continue working on the endless list of tasks she needed to complete. On 12/9/22, Jaclyn sent in the following note explaining what our service meant to her: Dear Mr. Wright; This email is long overdue. On October 12 I needed to drive to where I could store the little I could save from my uninhabitable mobile home due to Hurricane Ian. The TPMS light was on and it was beyond me at that point to know what to do. I knew I could not figure out the owner's manual. I called Subaru of Fort Myers and Joannie who had contacted me when a service light was on due to the tornado that damaged the car in January. She had given me her number and said to call if I had any problems. I explained and she said to come on in to the dealership and they would fit me in. Someone was going to help me fix what I couldn't take care of on my own. Ariel Claus was the service rep at the counter who listened, assured me they would check it out and handled my tears of relief and gratitude that welled up and overflowed. I'm sure I babbled my thanks. The tears kept coming because I was so relieved. She was so kind and she was going to solve this problem for me. Ariel directed me to the coffee machines and came to check on me. All this may seem routine to you, but in the midst of a total loss of my house and almost all of my belongings and a car computer that I couldn't figure out, Ariel's calm and routine handling of what to me at that time was the last straw was a monumental kindness I will never forget. I tear up now, remembering Ariel and Joannie and the service techs who made at least that part of my life, for that bit of time, all right. I might add that several weeks later, I did have a flat tire from debris in the mobile home park where I kept returning to see if more could be saved. I called AAA. Five hours later still no one had even called me back. I called Subaru and someone was there to help me in under 15 minutes! Again, Subaru to the rescue! Again kindness and great service. I want to thank you for having a service department that could fit in and help a desperate Subaru leasee, and for having employees like Joannie and Ariel who listen and see people and not just car owners or leasees. And a roadside service that provides such excellent service. I won't forget and I will tell others. Sincerely, Jaclyn L. Markham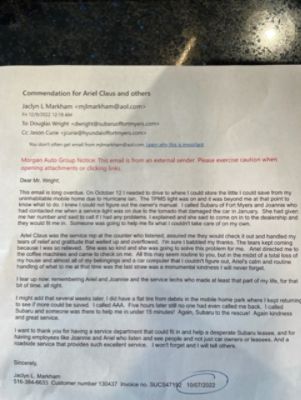 ---