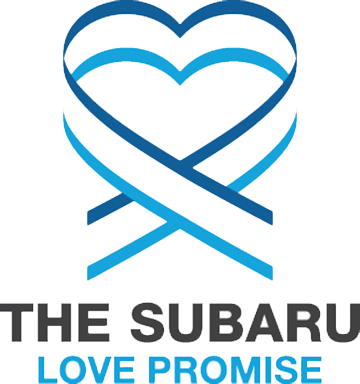 What is the Subaru Love Promise?
Subaru and our retailers believe in making the world a better place and the Subaru Love Promise is our vision of respecting all people. This is our commitment to show love and respect to our customers and to work to make a positive impact in the world.
How is Subaru of Fort Myers dedicated locally to the Love Promise?
WE ARE MATCHING FUNDS 100%
CAPE CORAL ANIMAL SHELTER
COLONIAL ELEMENTARY SCHOOL
Lee County Homeless Coalition Inc.
Love Promise Stories from Subaru of Fort Myers
Subaru and Subaru of Fort Myers believe in making a positive impact on the communities in which we live and work. We uphold that belief through our Love Promise Community Commitment. Every month, we select inspiring stories from customers and partners from around our area who strive to support our collective commitment and feature them here
Santa Drives a Subaru! - Jen E
On 12/22/22 Subaru of Fort Myers was lucky enough to partner with Gladiolus Food Pantry for their Holiday toy giveaway. Gladiolus Food Pantry has been operating since March of 2013 and helped feed 22,401 community members last year alone! Their mission is to reduce hunger by providing healthy, nutritious food while treating everyone with dignity and respect. Gladiolus Food Pantry holds holiday events regularly, but this year was far from regular. Unfortunately, Gladiolus' building was severely damaged by Hurricane Ian. Where there used to be shelves of food, are now only concrete floors, walls, and a damaged roof. Even though the Food Pantry needs major repairs, that would not stop founder Miriam Ortiz and her dedicated volunteers from helping the community this holiday season. The event must go on and it did right in the parking lot. The event was able to provide age-appropriate toys and clothing to hundreds of children for the holidays. After the devastation of Hurricane Ian, the need is high for many families who lost so much. This event is always special but held a bit more meaning this year for a lot of people. While families work to rebuild homes, replace vehicles, and get back to life before the storm, the holidays can be an additional pressure. As our community builds back, it is events like this that bring us together. Subaru of Fort Myers was proud to provide food for everyone who attended the event. Subaru of Fort Myers employees Jen Evans and Jeny Leyba grilled and individually wrapped over 500 hotdogs to ensure everyone who attended had a hot meal. The kids all got the opportunity to meet Santa and the Grinch was there causing trouble. Jen and Jeny learned that when Santa isn't driving his slay, he drives a 2018 Outback! In an effort to get on the nice list, Jen and Jeny told Santa about all the great new features Subaru has added to the Outback. They think he deserves an upgrade this holiday season!!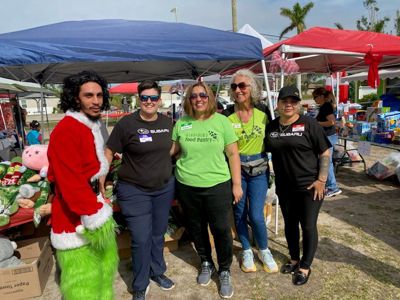 ---
Kindness and Great Service - Jaclyn M
We first met Jaclyn Markham back in October of 2021, when we ordered a new Impreza for her. Jaclyn was a previous Subaru customer and was at the end of her Impreza lease, ready for a new one. Her new Impreza arrived on January 6th and she finalized her lease on January 12th. Everything was great until four short days later a natural disaster hit. Her brand new Impreza was affected when several tornadoes formed in SW Florida during a winter storm. Jaclyn brought her Impreza into our service department to get repairs completed and this is when she met Joannie. Joannie was able to get everything fixed up and Jaclyn went on her way. Later this year, SW Florida was struck again by a major natural disaster. Unfortunately, Jaclyn was once again negatively affected. This time, Jaclyn lost everything in her home and it was deemed uninhabitable. Her Impreza, that was less than a year old, was involved but was mostly undamaged. About a week after the storm, Jaclyn's TPMS light came on. With so much on her plate already, she could not handle more. She remembered Joannie who had helped her after the tornado. She called Joannie and was told to come right in, that we would make time for her right away. When Jaclyn came in, she was met by Ariel, her service advisor. In Jaclyn's words, "Ariel was the service rep at the counter who listened, assured me they would check it out and handled my tears of relief and gratitude that welled up and overflowed." Ariel continued to check in on Jaclyn even after the service was completed. This was everyday to us, but it was viewed as extraordinary by Jaclyn who had gone through so much. We understood her stress as a lot of us were affected in different ways by the storm. A few weeks later, Jaclyn called again. She had gotten a flat tire from the debris left behind by the storm. When she called in, we knew we needed to go above and beyond as it seemed mother nature wouldn't give Jaclyn a break. After waiting 5 hours for AAA, Jaclyn was still stranded. We decided to send help directly to her instead of towing her vehicle in and making her wait even longer. So we sent one of our technicians out to assist her. Connor changed her tire and put the vehicle spare on for her. Connor brought the tire back here to repair it. Once the repair was complete, Connor brought the tire back to Jaclyn and put it back on the vehicle. This allowed Jaclyn to continue working on the endless list of tasks she needed to complete. On 12/9/22, Jaclyn sent in the following note explaining what our service meant to her: Dear Mr. Wright; This email is long overdue. On October 12 I needed to drive to where I could store the little I could save from my uninhabitable mobile home due to Hurricane Ian. The TPMS light was on and it was beyond me at that point to know what to do. I knew I could not figure out the owner's manual. I called Subaru of Fort Myers and Joannie who had contacted me when a service light was on due to the tornado that damaged the car in January. She had given me her number and said to call if I had any problems. I explained and she said to come on in to the dealership and they would fit me in. Someone was going to help me fix what I couldn't take care of on my own. Ariel Claus was the service rep at the counter who listened, assured me they would check it out and handled my tears of relief and gratitude that welled up and overflowed. I'm sure I babbled my thanks. The tears kept coming because I was so relieved. She was so kind and she was going to solve this problem for me. Ariel directed me to the coffee machines and came to check on me. All this may seem routine to you, but in the midst of a total loss of my house and almost all of my belongings and a car computer that I couldn't figure out, Ariel's calm and routine handling of what to me at that time was the last straw was a monumental kindness I will never forget. I tear up now, remembering Ariel and Joannie and the service techs who made at least that part of my life, for that bit of time, all right. I might add that several weeks later, I did have a flat tire from debris in the mobile home park where I kept returning to see if more could be saved. I called AAA. Five hours later still no one had even called me back. I called Subaru and someone was there to help me in under 15 minutes! Again, Subaru to the rescue! Again kindness and great service. I want to thank you for having a service department that could fit in and help a desperate Subaru leasee, and for having employees like Joannie and Ariel who listen and see people and not just car owners or leasees. And a roadside service that provides such excellent service. I won't forget and I will tell others. Sincerely, Jaclyn L. Markham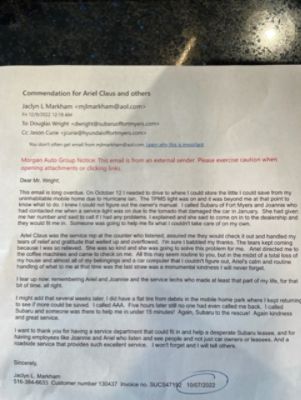 ---
Senior Pup Patina Finds a Home! - Liz M
A few months ago, Rick Rosenberry came to adopt a senior dog, and immediately fell in love with a Puggle named Lucie. He knew she was old and had health issues, but he wanted to give her the best for whatever time she had. He held her during the hurricane and was happy she was deaf and couldn't hear the storm. She gave him comfort. October 6th was Lucie's time, and Rick held her one last time as she crossed rainbow bridge. He immediately left the clinic and came to our adoption lobby. He asked to see another senior dog who needed a home. We introduced him to little Patina, and it was love at first sight. Patina will help Rick heal and he will show her the same love he showed Lucie. Happy life, Rick and Patina. We hope you have many years together. Note: Richard is a retired Lieutenant Commander with the US Coast Guard and taught history. Thank you for your service, sir. Thanks for your support, Subaru!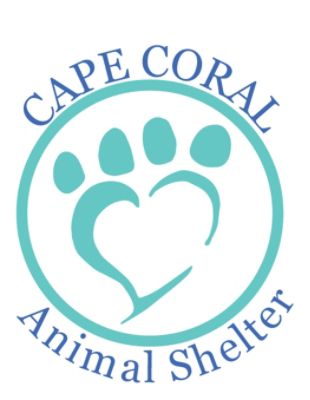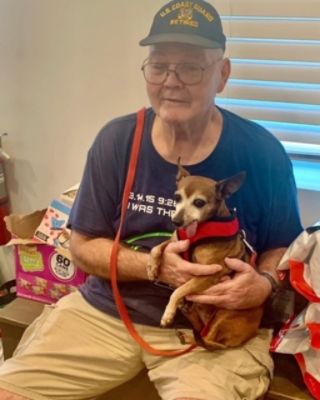 ---
Owen finds love at Cape Coral Animal Shelter - Liz M
A very important part of what we do as a private shelter is to assist our local municipal shelters by pulling animals when they have extreme medical cases or senior pets who are stressed by the shelter environment. We don't know exactly how Owen ended up at an animal control shelter, but we just knew we couldn't leave him there. At thirteen years old, Owen obviously never received the love and care he deserved, but his luck was about to change. Our veterinarian determined that he had a many medical issues—a significant heart murmur, a hernia, multiple masses, alopecia and other skin problems, and severe dental disease. Being a senior, he had onset of cataracts and arthritis. What did Owen have going for him? Everyone who met this little guy just fell in love with his sweet personality and soulful eyes. As he waited to become strong enough for surgery, Owen entered a series of foster homes with staff and volunteers, and he touched the hearts and souls of each one. During the day he would rest in our break room, and he quickly became very popular! Finally healthy enough for surgery, our vet went to work—hernia repaired, masses removed, all his rotting teeth—gone! Owen was a new dog and feeling so much better. After several months in our care, along came a gentle man who was searching for a senior dog to join his family. Owen won him over immediately and off they went to start a brand-new life together—and Owen has a senior fur buddy to keep him company. We all shed may tears of happiness but know there are many more super senior pets out there waiting for us to save them. Subaru Loves Pets, and we couldn't think of a better partner to help us promote the underdogs. During this amazing promotion the month of October, we had over 80 adoptions! We are a brand new shelter--opened just a few days before the pandemic. Getting the word out about our shelter and our amazing residents is a challenge, but a national promotion such as this truly helped. We had multiple underdogs adopted during the month--mostly seniors with health issues that make it challenging for them to find the right adopter. With the help of Subaru of Fort Myers, we were able to share their stories throughout the community. We even had a super cool photo shoot with some of our "rock star" dogs in brand new Outbacks. How cool is that! We are grateful to Subaru and the folks of Subaru of Fort Myers for all they have done to help shelter animals find forever, loving homes. (And you're commercials are the best!)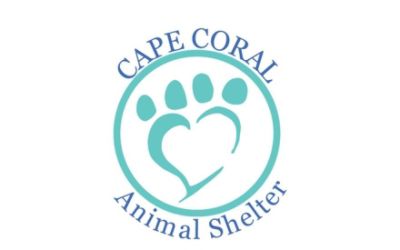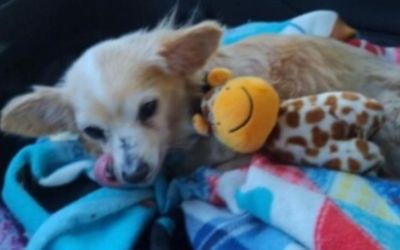 ---